CBM ON-CAMERA Bilingual (English and Spanish) Talent Casting Audition
Project: CBM

Duration: 8 min (Using Prompter) Corporate.
 

Submission Deadline:  Monday, October 16/ 2023 @12:00 pm EST

Usage: Buyout

Tentative Recording Date: 11/04/2023 

Format: mov, mp4, WAV, H.264, HEVC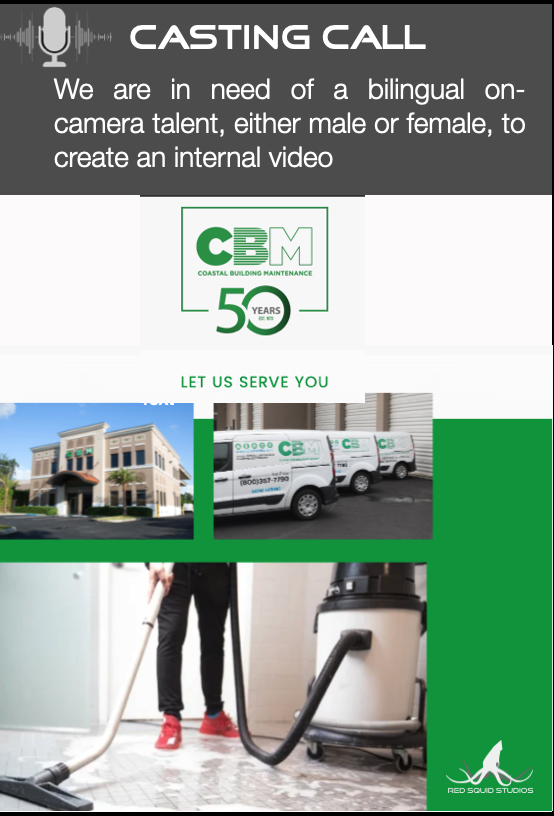 We are in need of a bilingual on-camera talent, either male or female, to create an internal video for a waste management company. No travel fees included
Self-tape audition required
(just read a portion of it)
Bienvenido a CBM
Le damos la bienvenida como empleado de Coastal Building Maintenance ("CBM"). Estamos encantados de que haya elegido unirse al equipo de CBM y le deseamos lo mejor durante su empleo. Somos una auténtica empresa familiar especializada en el sector de la limpieza desde hace más de 50 años.
Aprendamos los conceptos básicos de qué esperar como empleado de mantenimiento de edificios costeros. Repasaremos cuestiones internas importantes, como las condiciones de empleo, nuestra política de abuso de sustancias y lo que implica un período introductorio.
Este video cubrirá información sobre temas que afectan directamente su bienestar personal, su éxito, su trabajo y sus oportunidades de avance. Puede esperar que CBM proporcione un ambiente de trabajo y liderazgo en el que los empleados sean tratados con dignidad y respeto, mantengan los más altos estándares de ética empresarial, comprendan la importancia de su papel en nuestro éxito, brinden capacitación y oportunidades de avance, aprovechen la tecnología para brindar transparencia, retroalimentación y educación continua; y ofrecer una política de puertas abiertas.
**
We welcome you as an employee of Coastal Building Maintenance ("CBM"). We are delighted that you have chosen to join the team at CBM and wish you the best throughout your employment. We are a true family business that has specialized in the janitorial industry for over 50 years. 
Let's learn the basics of what to expect as a Coastal Building Maintenance employee. We'll go over important housekeeping matters — like conditions of employment, our substance abuse policy and what an introductory period entails. 
This video will cover information on subjects that directly affect your personal welfare, your success, your job, and your opportunities for advancement. You can expect CBM to provide a work environment and leadership in which employees are treated with dignity and respect,  maintain the highest standards of business ethics, understand the importance of your role in our success, provide training and opportunities for advancement, leverage technology to provide transparency, feedback and continuous education; and provide an open-door policy.
For a more in-depth explanation please refer to your copy of our employee handbook. Let's get started!
When submitting the casting, ensure the file is in MP3 format, under 10MB, and preferably in mono, 48kHz, with a minimum of 16 bits. Include multiple takes in a single audio file. If you encounter any issues, email the casting along with your information to [email protected].
Note: Only selected candidates will be contacted. Feel free to include questions in the form or email. If you disagree with the terms, have conflicts with the brand, work for the competition, or find the script violating your principles, refrain from submitting.
Name the file correctly: casting_Title_YourName.mp3. Incorrect labeling may result in omission.
Join our mailing list for updates and collaborations. All creative individuals welcome. Let's grow together!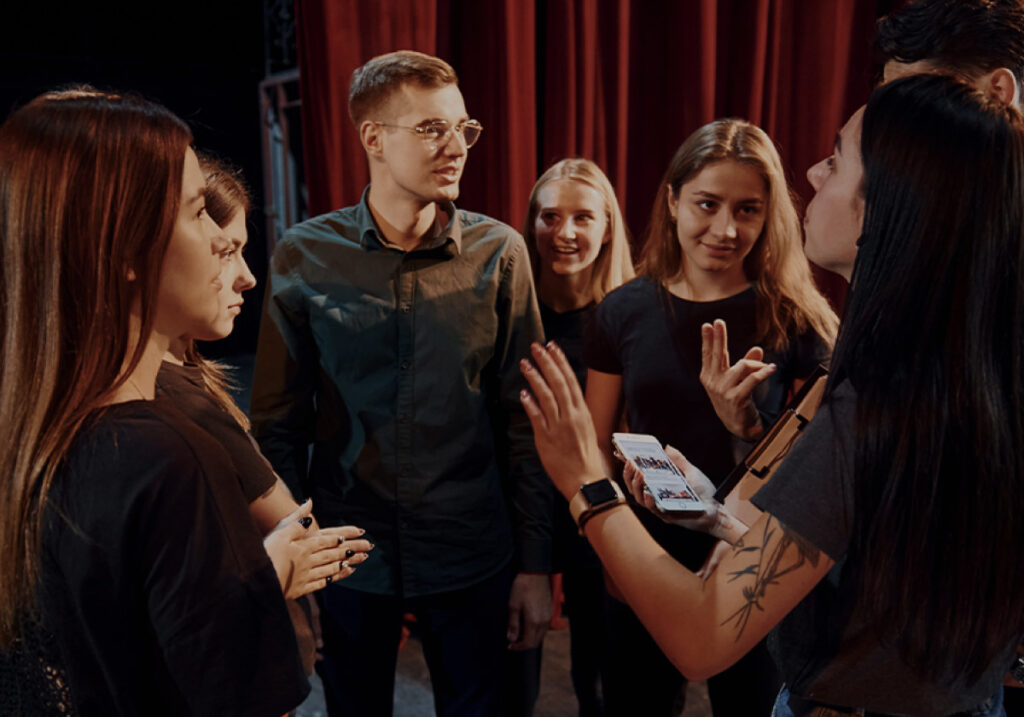 Discover Your Acting Potential: Join Our Community and Stay Connected for Exclusive Casting Calls and Exciting Projects! At RedSquid Studios, we're always on the lookout for talented actors to bring our productions to life. By subscribing to our blog, you'll gain access to insider information on upcoming castings and future projects. Don't miss out on the opportunity to showcase your skills and be a part of our creative journey. Subscribe now and embark on an exciting acting adventure with RedSquid Studios!
Calling All Voiceover Talents: Embrace Diversity and Join Our Growing Roster of Artists! At RedSquid Studios, we celebrate the richness of voices from diverse backgrounds, languages, ages, and genders. We are constantly seeking fresh talent to bring unique perspectives to our projects. By subscribing to our blog, you'll stay connected with our latest casting opportunities and future projects. Whether you're a seasoned professional or an aspiring voiceover artist, don't miss the chance to be part of our vibrant community. Subscribe now to unlock exciting casting calls and embark on a journey of endless possibilities with RedSquid Studios!