CASTING VO BILLIONAIRE SCRATCHER
Projecto: Earnings

Duración: 60 sec
 

Fecha límite de entrega:  Martes, 5 de septiembre de 2023, a las 8:00 a.m.
Uso: local

Fecha tentativa de grabación: Pendiente 

Formato: mp3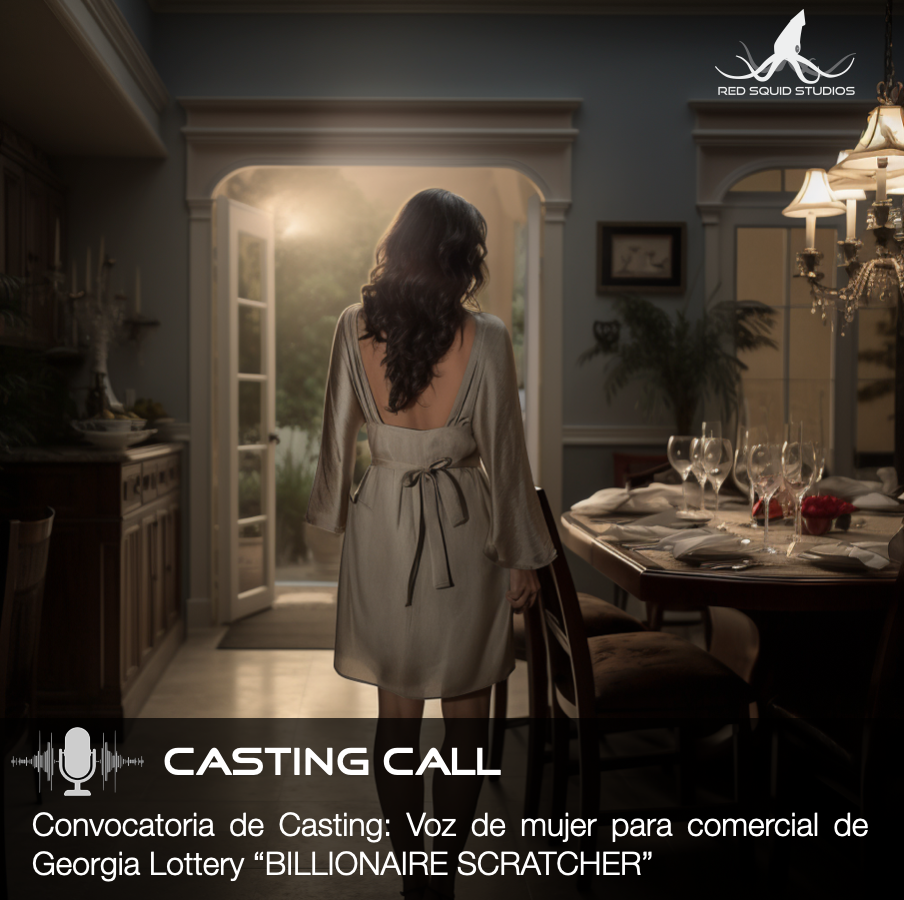 Este es un spot gracioso. Se trata de un esposo y esposa que están alistándose para salir a cenar, pero antes de hacerlo, el esposo corre por toda su ridículamente enorme casa (porque se ganaron el premio de este scratcher) para encontrar los aretes de su esposa. Así es que habrá varios efectos de sonido de él corriendo, algunos jadeos por el cansancio del esposo, algunos gritos simpáticos.
En otras palabras, simple pero divertido (chistoso). La gracia está en que nuestro talento se comporte en realidad como marido y mujer, y den vida a esta situación que puede ser muy normal en una pareja. 
ESPOSA
Mujer en sus 30's-40's (Buena pronunciación de inglés) Típica voz de "esposa", que no suene a una locutora comercial. Tú no estás corriendo por toda la casa, pero si estás dirigiendo a tu marido. En tu última mención, debes de reaccionar como si tu esposo estuviera a muchas millas de distancia.  
ESPOSO: Hey amor, ¿estás lista? La reservación es a las 7:00
ESPOSA: Sí, ¿me podrías traer mis aretes que están en la cocina por favor?
ESPOSO: ¡Claro!
(Él corre a buscarlos… pasos, pasos, pasos… luego regresa… pasos,paso)
No los vi.
ESPOSA: Ay, perdón, podrían estar en la cocina de huéspedes.
ESPOSO: Okay
(Él corre a buscarlos… pasos, pasos… luego regresa… pasos, pasos… ahora está sin aliento)
¡Nada!
ESPOSA:
Aaay, era en la cocina del salón de juegos. ¡Sí, ahí deben de estar!
ESPOSO: Agh…
(Él corre a buscarlos… pasos, pasos, pasos…)
ESPOSA:
(Gritando hacia su esposo)
¡O tal vez en la cocina del cuarto!
ESPOSO:
(Gritando le a ella desde lejos)
¡Cambia la reservación para las 8!
Al enviar el casting, asegúrate de que el archivo esté en formato MP3, con un tamaño inferior a 10 MB y preferiblemente en mono, 48 kHz, con un mínimo de 16 bits. Incluye múltiples tomas en un solo archivo de audio. Si encuentras algún problema, envía el casting junto con tu información a [email protected].
Nota: Solo se contactará a los candidatos seleccionados. Siéntete libre de incluir preguntas en el formulario o en el correo electrónico. Si no estás de acuerdo con los términos, tienes conflictos con la marca, trabajas para la competencia o consideras que el guion viola tus principios, abstente de enviar tu casting. 
Nombre el archivo correctamente: casting_Título_TuNombre.mp3. La falta de etiquetado correcto puede resultar en omisión.
Join our mailing list for updates and collaborations. All creative individuals welcome. Let's grow together!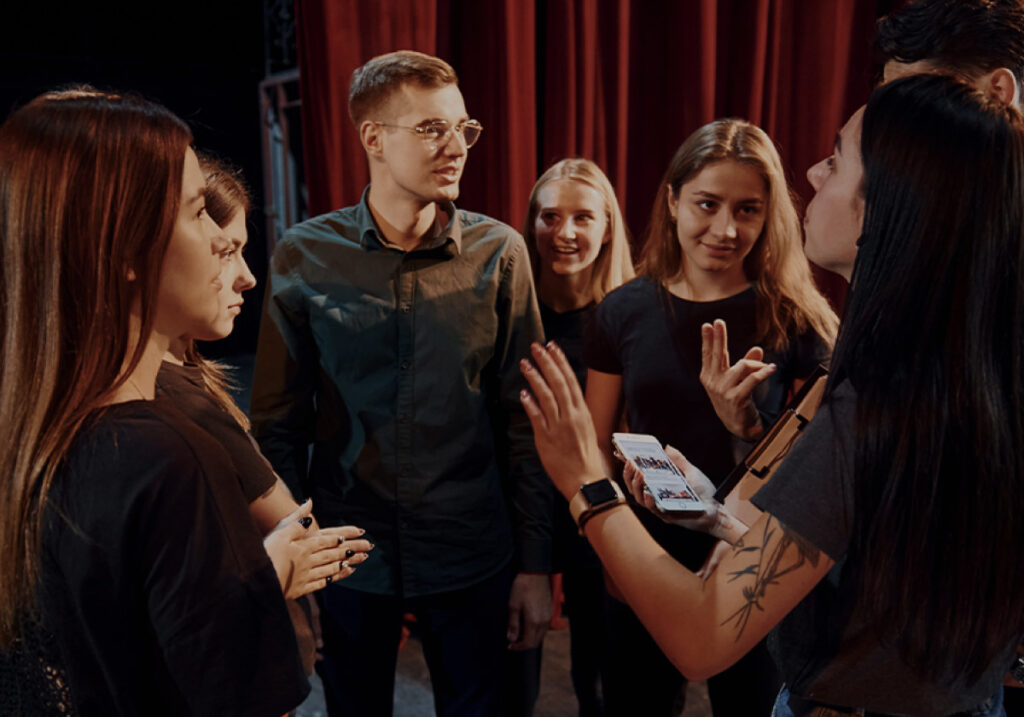 Discover Your Acting Potential: Join Our Community and Stay Connected for Exclusive Casting Calls and Exciting Projects! At RedSquid Studios, we're always on the lookout for talented actors to bring our productions to life. By subscribing to our blog, you'll gain access to insider information on upcoming castings and future projects. Don't miss out on the opportunity to showcase your skills and be a part of our creative journey. Subscribe now and embark on an exciting acting adventure with RedSquid Studios!
Calling All Voiceover Talents: Embrace Diversity and Join Our Growing Roster of Artists! At RedSquid Studios, we celebrate the richness of voices from diverse backgrounds, languages, ages, and genders. We are constantly seeking fresh talent to bring unique perspectives to our projects. By subscribing to our blog, you'll stay connected with our latest casting opportunities and future projects. Whether you're a seasoned professional or an aspiring voiceover artist, don't miss the chance to be part of our vibrant community. Subscribe now to unlock exciting casting calls and embark on a journey of endless possibilities with RedSquid Studios!